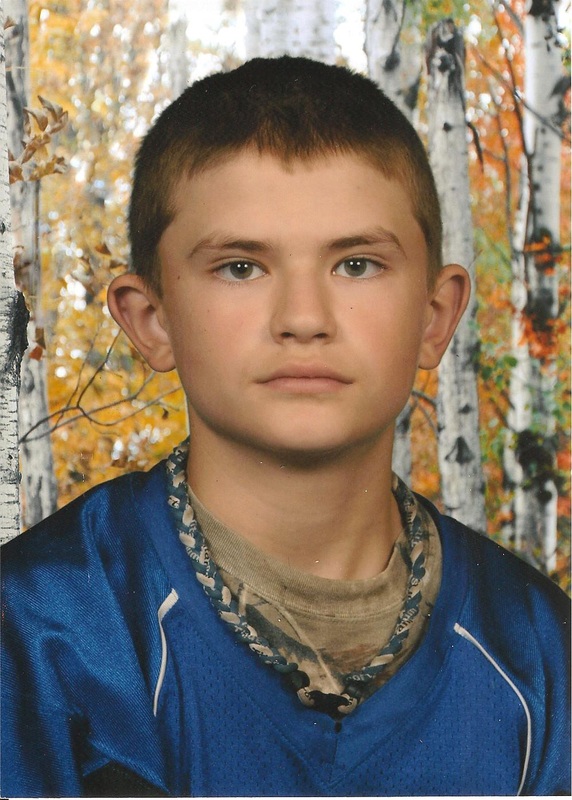 Zachary Michael Hovey, 12, of Coleman died at home Tuesday May 6, 2014. He was born October 4, 2001 in Mt. Pleasant the son of Patrick & Amy (Bromm) Hovey. Zachary was a 6th grade student attending Coleman Community Schools, where he was active in baseball, basketball and his favorite sport, football. Zach was also in the school band, 4-H showmanship and was a member of the Faith United Methodist Church Youth Group. He loved running and he had participated in several 5K runs. He was a very outgoing young man, making friends everywhere, and he had a great work ethic.

Survivors include his parents Patrick & Amy Hovey of Coleman, brothers: John Perkins & Candace Loomis of Mt. Pleasant, Sam Perkins & Kayla Ostroske of Coleman, Steven Hovey of Coleman, grandparents: George & Kathy Bromm of Coleman, Lucille Bromm of Coleman, Nancy A. Hovey of Mt. Pleasant, aunts and uncles: Lorie & Steve Fox of Coleman, Karen & Carl Cecil of Riverdale, Glenda & David Bowerman of St. Louis, Becky & Bryan Sysak of Coleman, Sallie Butler of Alma, Timothy & Marsha Hovey of Sanford, LouAnn & Pat Molaski of West Branch, Karen Hovey of West Branch, Melissa Hovey of Mt. Pleasant, and several cousin-friends. Zach was preceded in death by his grandfather William Hovey.

Funeral services will be held 11:00 am Saturday May 10, 2014 at the Faith United Methodist Church, 310 N. 5th St., Coleman, with Rev. Caroline Hart officiating. Burial will take place in the Warren Township Cemetery, Coleman. Friends may call at the church on Friday from 2-4 & 6-9 pm and on Saturday starting at 10 am until the time of services. Please direct memorials to the family. O'Laughlin Funeral Home, Inc. assisted the family with arrangements.