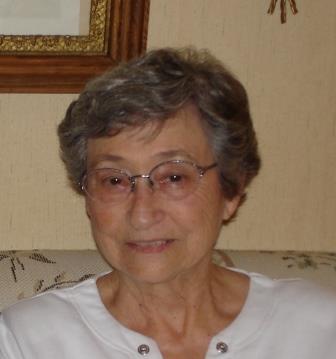 Ruth E. Smith, 90, of Coleman died at her home in Coleman, Friday August 22, 2014.

She was born in Fairview, TN, May 23, 1924 the daughter of the late Robert & Annie Mai (Sullivan) Kennedy. Ruth E. Kennedy married Volores O. Smith December 9, 1945 in Louisville, Ky. He died January 3, 2013. Ruth was a homemaker and helpmate to her husband, Volores, working part time at Smith Hardware for many years. She was an accomplished seamstress, making everything from her children's clothes to reupholstering furniture. Always an avid Tiger's fan she never missed a game on the TV. After retirement, Ruth and Volores spent winters in Yuma, AZ where she discovered her talent for drawing. She has several colored pencil drawings which decorate her home and the homes of her children. Ruth was also a quilter, making one quilt each year with a specific person in mind. Several years ago her children and grandchildren were all treated to a very special Christmas gift; one of her handmade quilts. Something we will treasure for years to come.

Survivors include her children: Christie & Ronald Rellinger of Coleman, Roger & Barbara Smith of Ann Arbor, Lonna & Keith Cozat of Coleman, grandchildren: Aimee Hackett, Makenzie & David Stuck, Meryl & Christopher Wiggins, Matthew Smith, Kimberly Cozat, Megan Cozat, Ashley Cozat, great-grandson, Micah Wiggins, brothers, Robert Leslie & Laveria Kennedy of Saginaw, Kenneth Kennedy of Hemlock and a sister Kathryn & Al Wahlberg of CA. Ruth was preceded in death by brothers Raymon & Carroll Kennedy, and sisters Beatrice Burton & Barbara Jean Sayers.

Funeral services will be held 11:00 am Monday August 25, 2014 at the Faith United Methodist Church, Coleman, with Rev. Caroline Hart officiating. Burial will take place in the Warren Township Cemetery, Coleman. Friends may call at the O'Laughlin Funeral Home, Inc. on Sunday from 2-4 & 6-8 pm and at the church on Monday starting at 10 am until the time of services. Memorials are suggested to the Coleman Area Library or the Coleman Veteran's Memorial.