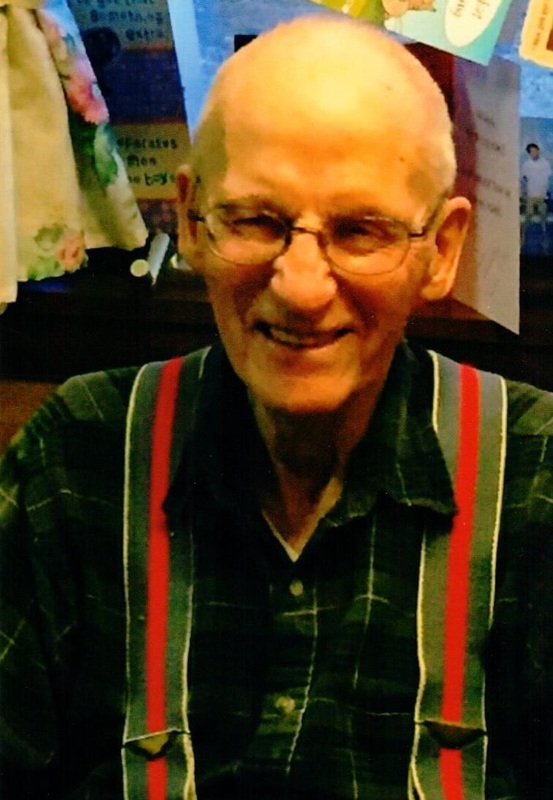 Vernell Eli Lewis, 90, of Coleman, died Friday, March 27, 2015, at his home on the same homestead where his father and grandfather also passed away. His wife of 64 years, Glenna, and his four children and their spouses, were with him at his bedside.

Vernell was born December 25, 1924 in Geneva Township, the son of the late Charlie and Catherine (Clarke) Lewis. He married Glenna May White on December 26, 1950 in Clare, Michigan, on a short leave from the U.S. Army, where he served from 1950-52 during the Korean Conflict. Their first daughter, Marsha, was born nine months and one day later, on September 27, 1951.

He enjoyed his family and friends, his home, and outdoor activities. Although he faced several health challenges in recent years, he remained active until his last two weeks under hospice care in his home. He maintained his sense of humor, joking with family and visitors up to his final two days. His family is grateful for the special care provided during this time, by the staff of Mid-Michigan Hospice.

He is survived by his wife, Glenna; sons, Jack Lewis, and Chuck (Rhea) Lewis of Coleman; daughters, Marilyn (Kenneth) Vandrick, of Lake, and Marsha (Ray) King of Groveland, Illinois; 14 grandchildren: Jason (Heidi) Lewis, Andy (Tonia) Lewis, Gabe Lewis, and Nate (Caili) Lewis, all of Coleman, Eric (Linsey) Vandrick of Elkhart, Indiana, Allison (Andrew) Bierlein and Jessica (Paul) Majchrowski), both of suburban Chicago, Illinois, Brian (Andrea) King, Alan (Melissa) King, Anne (John Paul) Repke, Suzanne (Josh) Arington, and Trenton King, all of Tazewell County, Illinois, Kevin (Elaine) King and Steven (Milena) King both of Entre Rios, Parana, Brazil; 27 great-grandchildren; two sisters, Florence Smith of Sanford, and Kathleen Long, of Coleman; and one sister-in-law, Mary Lewis of Coleman. He was preceded in death by four brothers, Carl, Kenneth, Clarence and Elmer Lewis, and one sister, Ruth Ramsey, all of Coleman.

He was an active member of Geneva Hope United Methodist Church, serving in numerous positions of leadership and service, until its closing in 2010. He and Glenna then joined Faith United Methodist Church in Coleman. He was a chemical operator at Dow Corning Corporation for 30 years, retiring in 1986. He was a member of Coleman VFW.

Funeral services will be held, Tuesday, March 31, 2015, at 11 a.m., at Faith United Methodist Church, 203 Jefferson St. in Coleman, with Rev. Calvin Long and Rev. Caroline Hart officiating. Friends may call on the family from 4-8 p.m., Monday, March 30, 2015 at the O'Laughlin Funeral Home, Inc., 215 W. Adams St. in Coleman, and on Tuesday, at the church from 10 a.m. until the start of services. Burial will be in the Warren Township Cemetery.

Memorial contributions may be made to the Faith United Methodist Church Building Fund or to the Coleman Veterans' Memorial.