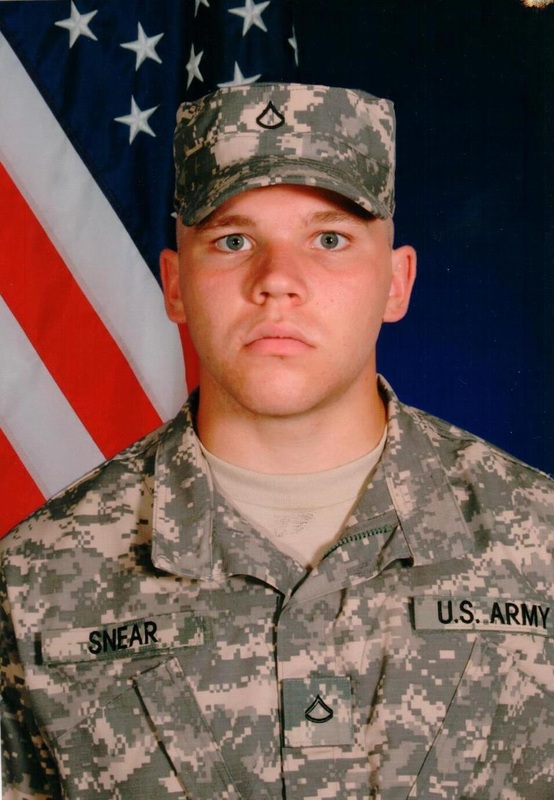 PFC Robert J. Snear, 21, of Coleman, died Sunday August 9, 2015 in Fort Hood, Texas. He was born December 27, 1993 in Midland. Robert graduated from Coleman High School where he was active in track, cheer and where he wore #57 on the football team. He enjoyed hunting with his Dad at the cabin, being goofy, making people laugh and spending time with his nieces and nephews. Robert was enlisted in the United States Army.

Survivors include his parents Ron & Jean Snear, Sr. of Coleman, Tina Sharpe of Midland, grandparents, Charlie & Gerry Brown of Coleman, siblings: Dawn & Danny Dionne of Edenville, Kris Snear of Coleman, Steve & Ashley Snear of Coleman, Kara Sabat of Coleman & Tim Sabat of Lake, Kendra Snear of Coleman, Steven & Donna Snear of Coleman, Dakota Snear, Alex Snear, Marshall Snear all of Coleman, Ronnie & Jessica Snear of Midland, Melissa & Jay Harnick of Loomis, Marlana.& Josh Richards of Clare, Michelle & Corey Rodabaugh of Loomis, Michael & Racheal Smith of Coleman, Nathan & April Beauchamp of Coleman, special friends: Jaidee Snear of Coleman, Chelsea Snear of Coleman, Ross & Elizabeth Moldenhauer stationed in Germany, Gage Rodabaugh, Hunter Gross of Coleman, many nieces, nephews, aunts, uncles and friends. He was preceded in death by grandparents: Carol Valentine, Bill & Hazel Snear and his nephew Jordon Winter.

Funeral services will be held 11:00 am Monday August 17, 2015 at the Greater Midland Coleman Family Center, in Coleman with Chaplain Brian Martinus officiating. Burial will take place in the Warren Township Cemetery, Coleman. Friends may call at the O'Laughlin Funeral Home, Inc., Coleman, on Sunday from 2-4 & 6-8 pm and at the Family Center Monday starting at 10 am until the time of services. Memorials may be directed to Robert's family or the Coleman Veteran's Memorial.