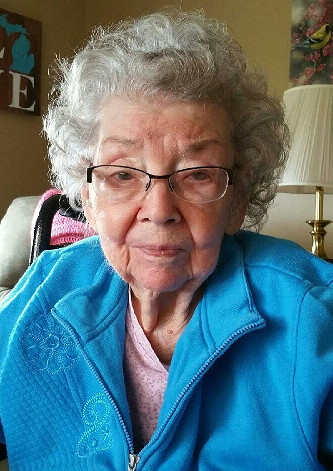 Ila M. Houseman, 89, of Coleman formerly of Clare, died at home with her family by her side Wednesday November 2, 2016. Because she asked Jesus into her heart, she is dancing with Him in heaven. She was born December 2, 1926 in Clare County the daughter of the late Lester & Olive (Teale) Allen. Ila M. Allen married Bernard D. Houseman November 27, 1946 in Lansing. He died March 31, 2013. She retired from General Motors Oldsmobile Division in 1982 after 39 years of service.

Survivors include her brother Harley & Joyce Allen of Mason, sisters: Rosemary Kenyon of Plainwell, Linda & Robert Whitworth of Sterling, VA, Connie Hess of Coleman, sisters-in-law Julaine Allen of Coleman and Wanda Allen of Saginaw Township, and many nieces and nephews. Ila was preceded in death by her brothers: Lester "Dutch" Allen, Richard Allen, James Allen, and brothers-in-law Terry Hess and Marshall Kenyon.

Funeral services will be held 11:00 am Saturday November 5, 2016 at the Coleman Wesleyan Church with Rev. Jack Steenbergh officiating. Burial will take place in the Warren Township Cemetery, Coleman. Friends may call at the O'Laughlin Funeral Home, Inc. on Friday from 2-4 & 6-8 pm and at the church on Saturday starting at 10 am until the time of services. Memorials may be directed to the Coleman Wesleyan Church.