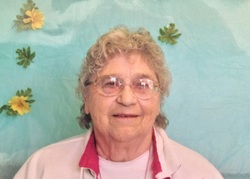 Margaret A. Govitz, 86, of Coleman, died Saturday May 28, 2016 at MidMichigan Medical Center, Midland. She was born in Marquette January 27, 1930, the daughter of the late James & Blanche (Tripp) Cole. Margaret A. Cole married Lawrence H. Govitz September 30, 1950 in Midland. He died December 20, 1981. Margaret enjoyed crocheting, fishing and Tiger Baseball. She loved her family and she especially enjoyed gatherings of friends and family.

Survivors include her children: Michael & Patricia Govitz of OK, Judy Baker of Coleman, Lawrence & Susan Govitz of Coleman, 13 grandchildren, 19 great-grandchildren, 1 great-great-grandson and a sister-in-law Judy Cole of Beaverton. She was preceded in death by her son Dennis Govitz, brothers: Donald, Willard, James, Dave and Richard Cole, sisters Rose Brackett and Shirley Wesley.

Funeral services will be held 11:00 am Wednesday June 1, 2016 at the O'Laughlin Funeral Home, Inc., Coleman, with Rev. Earl Marsh officiating. Burial will take place in the Warren Township Cemetery, Coleman. Friends may call at the funeral home on Tuesday from 2-4 & 6-8 pm and on Wednesday starting at 10 am until the time of services.