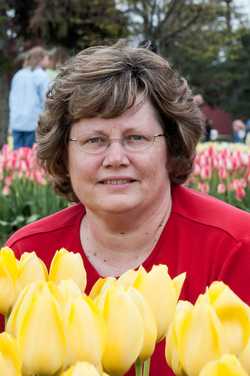 Penny J. Burns formerly of Clare died Friday December 16, 2016 at home, with her family by her side, after a courageous 4-year battle with breast cancer. She was born March 26, 1957 in Mt. Pleasant, the daughter of the late Norval & Virginia (Vought) Arnold. Penny J. Arnold married Jeffrey L. Burns May 16, 1981. She was employed with Notions Marketing for several years working as an assistant buyer for the creative arts industry. Penny enjoyed creative arts: painting, quilting and taught classes in scrapbooking.

Survivors include her husband Jeff, brothers: Calvin Arnold of Mt. Pleasant, Kevin & Karen Arnold of Caledonia, Kurt & Laurie Arnold of Auburn, sister Sandra & James Martin of Oshkosh, Wisconsin and many nieces and nephews.

Memorial services will be held at the Clare United Methodist Church with Pastor John Kasper officiating on Saturday, January 7th. Friends may call at the church starting at 11:00 am until the time of services at 12:00 noon, with a luncheon at the church to follow. In lieu of flowers, please send donations to: Mary Free Bed Foundation, In Memory of Penny Burns – Cancer Rehabilitation, 235 Wealthy Street S.E., Grand Rapids, MI 49503; Spectrum Health Foundation, In Memory of Penny Burns – Lemmen-Holton Cancer Pavillion, 100 Michigan Street N.E., Grand Rapids, MI 49503; Clare United Methodist Church, In Memory of Penny Burns, 105 E. 7th Street, Clare, MI 48617. O'Laughlin Funeral Home, Inc., 215 W. Adams St., Coleman, MI 48618, is assisting the family with arrangements.