Vaults and outer burial containers: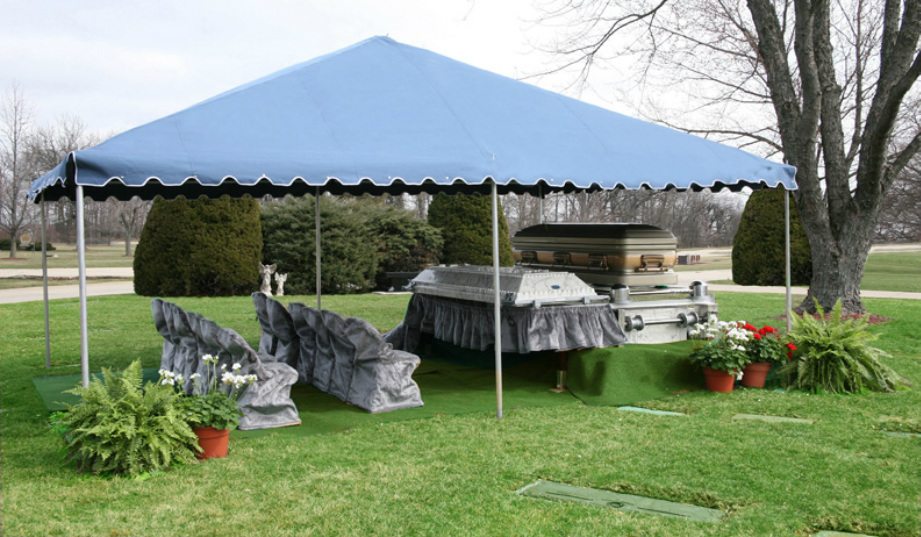 In most areas of the country, no state or local law requires that you buy a container to surround the casket in the grave. However, many cemeteries require that you have such a container so that the grave will not sink in. Either a grave liner or a burial vault will satisfy these requirements.
Burial Vaults: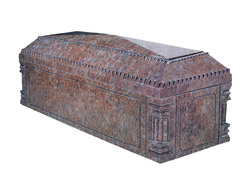 Premum Burial Vaults combine the finest in engineering, workmanship and materials to offer vaults of unsurpassed beauty, strength and protection.

Honors: Honor those who have distinguished themselves with military service. Whether your loved one has served and retired, or fallen in the line of duty, these options allow you to memorialize them with pride, in a way that recognizes the sacrifices made for our freedom.
---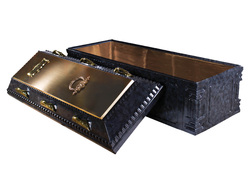 Agean Elite Bronze: The Agean represents a leap forward in both protection and options. This model includes the patended arched, reinforced Triguard cover with tongue and groove design, a thermoformed interior liner and an additional exterior layer of high impact polystyrene. In addition to increasing the structual ingegrity of the vault, the exterior liner allows us to offer a wide variety of finish options. Intricate moldings and decorative corner colums complete the refined look of this vault, which is available in simulated gray granite, rose granite, white marble and black marble finishes.
---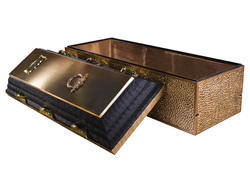 Reflection Bronze: The Reflection builds on the same basic same features as the Trilogy. The reinforced vault with the tongue and groove design with tape seal and thermoformed polymer liner provide strength and security, while a textured, painted exterior finish, with decorative handles, personalized nameplate and cover emblem add a touch of class. But what truly makes the Reflection shine is the addition of pure handcrafted metals. Interior sheeting and exterior caps are available in gleaming stainless steel, glowing copper or fiine bronze. Designed for added beauty and strength, this vault is the perfect compliment to caskets of steel, copper or bronze.
---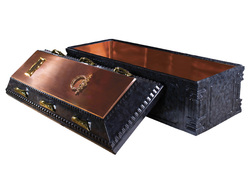 Reflection Copper
---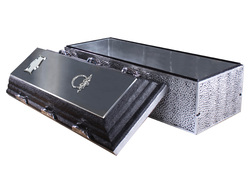 Reflection Stainless: Also available in pink.
---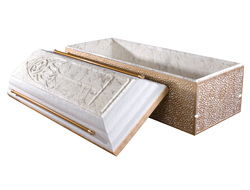 Standard Burial Vaults combine innovative technology and meticulous attention to detail to offer vaults of superior beauty, stregth and protection.

Trilogy Simulated Stone: Concrete reinforced vault with arched cover and tongue and groove design with tape seal includes Triguard's thermoformed polymer liner on the interior. The interior liner is available with a basic textured surface. simulated wood grain or simulated stone finish. The stone finish is available in black marble, white marble or gray granite, and is also available as an alternative for the basic concrete design. You may choose from cover finishes of painted concrete, flat simulated stone or simulated stone with a raised church window design. This vault also includes decorative individual or bar handles, a personalized nameplate, a cover emblem and a decoratively textured and painted exterior.
---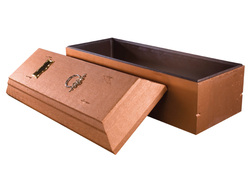 Estate: Concrete reinforced vault with arched cover and tongue and groove design with tape seal includes Trigard's thermoformed polymer liner on the interior, and a painted exterior finish with personalized nameplates and emblems.
---
Basic Burial Vault: Concrete container with no polymer line or tape seal
Concrete Grave Liner: Concrete container. Not a burial vault. The minimum required by cemetery regulations.
Feel free to contact us at the O'Laughlin Funeral Home, Inc. if you have any questions or wish to discuss the many options for personalizing a burial vault to accomodate your individual needs.
O'Laughlin Funeral Home, Inc.
215 West Adams Street
P.O. Box 126
Coleman, MI 48618-0126
(989)465-1551